A candle can be the perfect gift for someone you care about. It can translate feelings of kindness, consideration, compassion, care, and genuine sincerity.
A Beautiful Disregard candle says all that and more. It says you are valued, you have worth, and you are made for purpose!
Every candle has a stunning fragrance, which has been purposefully chosen to bring life, love, and joy to any space. Our candle's come in an authentic white coloured travel tin (reusable) and have been hand poured with love; by two sisters who live on the Gold Coast Australia (Danielle & Joanne from Jambaroo).
All Beautiful Disregard candles consists of natural soy wax and gorgeous essential oils. They are approximately 200g in weight and have an approximate burn time of 20 hours. This is a candle that has a long-lasting fragrance; printed with encouraging words which we hope will have a long-lasting impact – Faith Hope Love.
Dimensions: 8.5cm wide (with lid on) and 5.5 cm high
Japanese Honeysuckle Scent
OUT OF STOCK
Spring blooming Japanese Honeysuckle, combining honey sweetness with a light floral musk.
Top notes: Mandarin, Pine needle.
Middle notes: Grape, Neroli.
Base notes: Vanilla, Malt, Jasmine and Cedar Wood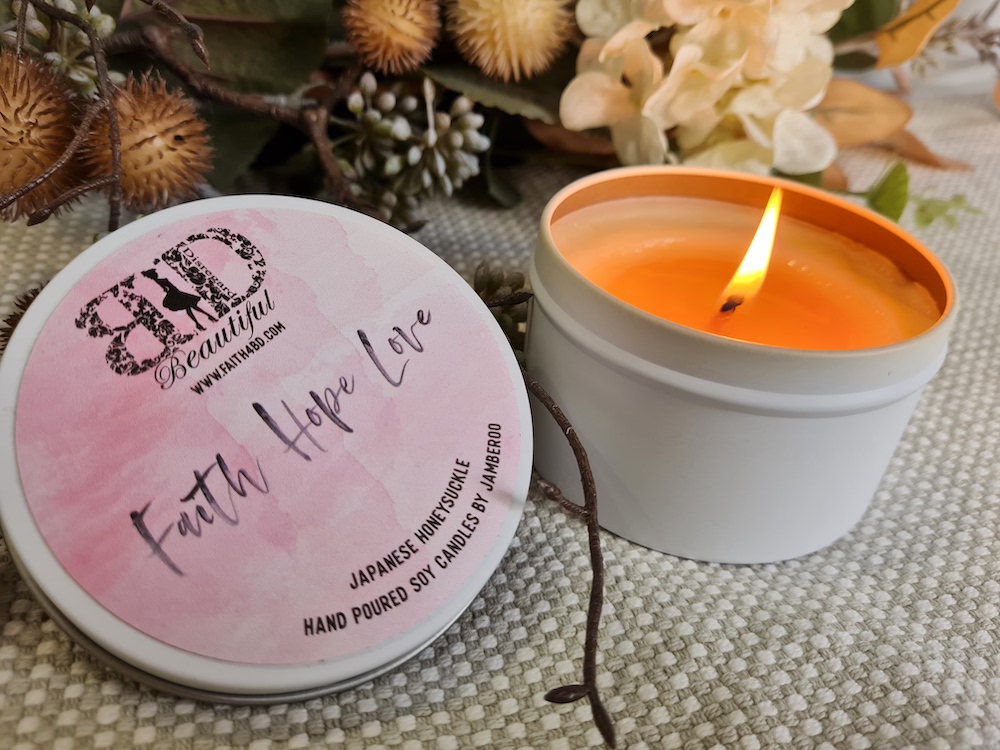 Watermelon Scent
OUT OF STOCK
A fruity delight of sweet fresh strawberries sprinkled with sugar, perfectly combined with that fresh summer Watermelon scent.
Top notes: Honeydew, Grapefruit.
Middle notes: Watermelon, Hibiscus.
Base notes: Vanilla, Musk.
French Pear Scent
OUT OF STOCK
A calming and grounding aroma of French Pear, bringing a feeling of all that is natural and peace orientated.
Top notes: Orange, Cinnamon.
Middle notes: Clove, Green Pear.
Base notes: Vanilla, Coconut.
Delivery Options:
Free delivery for ALL Australian orders over $100 (maybe add a Beautiful Disregard Tee to this order, for that extra special person).
If your order is under $100, you can choose from a flat postage fee of $10 or $15.00, for EXPRESS Post.